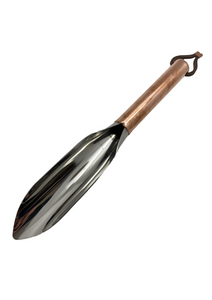 Handmade luxury trowel made in Stroud.
Handmade by Target Aviation in the Cotswolds by George from copper and stainless steel. This is a firm favourite with gardeners at all levels and a perfect gift. 

Uncle Peter's Trowel was recommend by Kate Humble of contryfile in her book "A year of living simply: The joys of a less complicate life" 
Now trading as Heirloom Trowels and handmade by Roger Targett in his shed. 

If you are gifting this wonderful trowel we can hand write a note on a made in Stroud gift tag at not extra cost.

Introducing Uncle Peter's Trowel 11 inches with Leather Strap – The Ultimate Gardening Essential!
Uncle Peter's Trowel 11 inches with Leather Strap is the epitome of functionality and style, making it an indispensable tool for any gardening enthusiast. This exceptional trowel combines precision engineering with a touch of rustic elegance, elevating your gardening experience to new heights.
Crafted with unwavering attention to detail, Uncle Peter's Trowel features a high-quality stainless steel blade that effortlessly cuts through soil, making it ideal for planting, transplanting, and digging. Its 11-inch length provides ample reach, while the sturdy construction ensures long-lasting durability, so you can confidently tackle various gardening tasks with ease.
But what truly sets this trowel apart is the addition of a genuine leather strap. The leather strap serves both functional and aesthetic purposes. It allows you to conveniently hang and store the trowel, ensuring easy accessibility whenever you need it. The leather strap also adds a touch of rustic charm, evoking a sense of nostalgia and timeless elegance that complements any garden aesthetic.
The ergonomic design of Uncle Peter's Trowel ensures a comfortable grip and precise control, minimizing hand fatigue during extended use. The balanced weight distribution further enhances the overall handling, making each gardening session a pleasure rather than a chore.
Whether you're a seasoned gardener or just starting out, this trowel is a versatile companion for all your gardening endeavors. From planting colorful flowers to tending to your beloved herbs or maintaining your vegetable patch, Uncle Peter's Trowel 11 inches with Leather Strap is designed to meet the demands of your green thumb with ease.
Invest in the ultimate gardening essential and enjoy the perfect blend of functionality and style with Uncle Peter's Trowel 11 inches with Leather Strap. Order yours today and experience the joy of gardening with a reliable and aesthetically pleasing tool by your side. It's time to take your gardening to new levels of efficiency, comfort, and elegance.