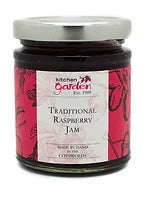 Handmade by Kitchen Garden Foods.
Kitchen Garden Foods was started by Barbara Moinet in 1989.
Kitchen Garden Foods only supply small independent shops and never supermarkets.
Today Kitchen Garden Foods is run by James Moinet and James Horwood.
Kitchen Garden Foods use family recipes, and small batch production, the highest quality ingredients.
Kitchen Garden Foods have an exemplary record for food hygiene and customer service. 
Introducing Kitchen Garden Foods  200g Traditional Raspberry Jam - A Pure and Delicious Delight!
Simplicity at its finest, our Traditional Raspberry Jam is a mouthwatering treat, perfect for spreading on warm toasted teacakes. If you're feeling a bit adventurous, why not try it as a delightful companion to cream cheese?
Ingredients and Allergens:
Raspberries
Cane Sugar
Lemons
For allergen information, please consult the ingredients list, where allergenic components are clearly marked in CAPITALS.
Allergy Alert: Please be aware that our products are prepared in a kitchen where various allergens, including nuts, are handled.
With a generous 57g of raspberries per 100g and a total sugar content of 66g per 100g, our Traditional Raspberry Jam is a pure and delightful indulgence. Elevate your teatime or snack with this timeless classic today!