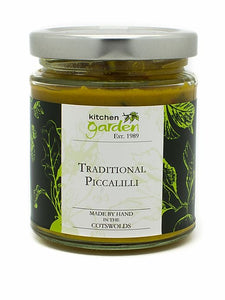 Handmade by Kitchen Garden Foods.
Kitchen Garden Foods was started by Barbara Moinet in 1989.
Kitchen Garden Foods only supply small independent shops and never supermarkets.
Today Kitchen Garden Foods is run by James Moinet and James Horwood.
Kitchen Garden Foods use family recipes, and small batch production, the highest quality ingredients.
Kitchen Garden Foods have an exemplary record for food hygiene and customer service.
Introducing Kitchen Garden Foods Piccalilli - the perfect accompaniment to elevate your meals and add a burst of tangy flavour to your favourite dishes.
Made from a blend of crisp vegetables including cauliflower, onions, and gherkins, our piccalilli is a delightful condiment that adds zing to sandwiches, cheese boards, and cold meats. With a balanced mix of savoury and sweet flavours, it is a versatile addition to any kitchen.
Our piccalilli is carefully crafted using only the freshest, locally sourced ingredients, and is free from any artificial preservatives or additives. It is also vegan-friendly, making it an excellent option for plant-based diets.
The bold and colourful packaging of our Kitchen Garden Foods Piccalilli adds a touch of vibrancy to any kitchen, and makes it an ideal gift for foodies or anyone looking to add some excitement to their meals.
Whether you're hosting a dinner party, enjoying a picnic or simply looking to add some flavour to your meals, Kitchen Garden Foods Piccalilli is the perfect addition to your kitchen pantry. Try it today and taste the difference!