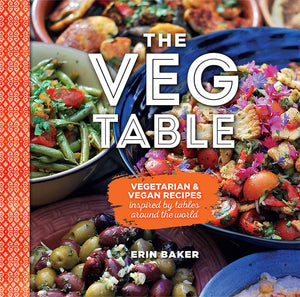 Written by Erin Baker.
Erin Baker is based in Stroud, Gloucestershire. 
Erin Baker is a chef at heart.
Erin Baker run The Natural Cookery School.
Erin Baker trained at Cullinary school.
Erin Baker is a vegan.
Erin Baker started a vegan resturant is San Francisco.
Erin Baker worked as a chef at Occidental Arts and Ecology Center in California.
 

Introducing "The Veg Table" by Erin Baker: A Delightful Journey into Vibrant Plant-Based Cuisine!
Discover a world of flavor, creativity, and nourishment with "The Veg Table" by renowned chef Erin Baker. This exquisite cookbook is a treasure trove of plant-based recipes that will tantalize your taste buds and inspire you to explore the vibrant and diverse world of vegetarian and vegan cuisine.
Key Features:
Culinary Adventures: "The Veg Table" takes you on a culinary adventure, guiding you through a vast array of plant-based dishes that celebrate the abundance of nature's bounty. From vibrant salads and hearty mains to delectable desserts and refreshing beverages, this cookbook offers something for every palate and occasion.

Inspired Vegetarian and Vegan Recipes: Erin Baker's passion for vegetarian and vegan cuisine shines through in "The Veg Table." She presents a collection of inspired recipes that showcase the incredible flavors, textures, and nutritional benefits of plant-based ingredients. Whether you follow a strict vegetarian or vegan diet or simply want to incorporate more plant-based meals into your lifestyle, this cookbook is a must-have resource.

Wholesome and Nourishing: "The Veg Table" emphasizes the use of wholesome, nutrient-rich ingredients that will nourish your body and delight your senses. Erin's approach to cooking is rooted in the belief that delicious food can also be nourishing and health-supportive, making this cookbook a valuable resource for those seeking a balanced and vibrant plant-based diet.

Creative Flavor Combinations: Prepare to be amazed by the creative flavor combinations showcased in "The Veg Table." Erin's expertise as a chef shines through as she expertly combines herbs, spices, and other ingredients to create dishes that are both comforting and exciting. Explore new taste sensations, experiment with bold flavors, and awaken your palate to the infinite possibilities of vegetarian and vegan cooking.

Practical and Accessible: This cookbook is designed to be practical and accessible, regardless of your level of cooking experience. Each recipe is accompanied by clear instructions, helpful tips, and stunning photography that will guide and inspire you along the way. From kitchen novices to seasoned cooks, everyone can enjoy the delights of "The Veg Table."

Celebrating Seasonal Produce: "The Veg Table" celebrates the beauty and flavors of seasonal produce. Discover the joys of cooking with fresh, locally sourced ingredients and learn how to make the most of each season's bounty. Erin's recipes reflect the changing seasons, allowing you to connect with nature's rhythms and savor the flavors of each time of year.

A Culinary Companion: "The Veg Table" is more than just a cookbook; it's a culinary companion that will accompany you on your plant-based journey. It will inspire you to try new ingredients, broaden your cooking skills, and create delicious and nourishing meals that will delight both you and your loved ones.
Unlock the secrets of vibrant plant-based cuisine with "The Veg Table" by Erin Baker. Embrace the joy of cooking with fresh, seasonal ingredients, explore new flavors, and nourish your body and soul with each delicious bite. Order your copy today and embark on a delightful journey into the world of vegetarian and vegan culinary delights!