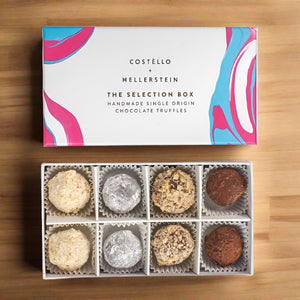 Discover the Ultimate Gourmet Experience with Costello and Hellerstein The Selection Box!
Unleash your taste buds and embark on a journey of pure decadence with Costello and Hellerstein The Selection Box. This exquisite assortment of handmade truffles is carefully curated to offer an unparalleled indulgence for every chocolate lover.
Inside this elegant box, you will find a tantalizing selection of four unique flavors, each crafted with meticulous attention to detail and using only the finest ingredients. Let your senses be enchanted by the following truffle sensations:
Sea Salted Caramel Truffles: Dive into the perfect combination of sweet and savory with these velvety smooth caramel truffles sprinkled with a touch of sea salt. Indulge in the harmonious contrast that will leave you craving more.
Raspberry and Coconut Truffles: Experience a tropical paradise with these fruity and luscious truffles. Delicate raspberry notes blend harmoniously with the creamy coconut center, creating a burst of refreshing flavors that will transport you to paradise.
Hazelnut Praline Truffles: Immerse yourself in the rich, nutty aroma and creamy texture of these hazelnut praline truffles. Bite into the smooth dark chocolate shell to discover the irresistible combination of roasted hazelnuts and indulgent praline filling.
Dark Chocolate Truffles: For the true chocolate connoisseurs, these dark chocolate truffles are a heavenly delight. Savor the intense and bittersweet flavors as the velvety dark chocolate slowly melts in your mouth, leaving you with a lingering sensation of pure chocolate bliss.
Each truffle in The Selection Box is a work of art, handcrafted with passion and expertise by Costello and Hellerstein's skilled chocolatiers. With every bite, you'll experience the perfect balance of flavors, the smoothest textures, and the finest quality ingredients, ensuring a truly unforgettable tasting experience.
Whether you're treating yourself or searching for the perfect gift, Costello and Hellerstein The Selection Box is the epitome of luxury and indulgence. With its elegant presentation, it makes a stunning gift for birthdays, anniversaries, or any occasion that calls for a touch of chocolate sophistication.
Experience the ultimate chocolate journey with Costello and Hellerstein The Selection Box. From the velvety sea salted caramel to the tropical raspberry and coconut, the nutty hazelnut praline, and the pure dark chocolate, every truffle is a celebration of flavor and craftsmanship. Give in to temptation and savor the pure delight that only the finest chocolates can offer.
Costello and Hellerstein was started by Ori Hellerstein. 
Costello and Hellerstein make luxury truffles. 
Costello and Hellerstein is named after Ori Hellerstein and his wife Yvonne Costello-Hellerstein. 
Costello and Hellerstein hand make their delicious truffles in Stroud, Gloucestershire. 

16 luxury truffles handmade by Costello and Hellerstein presented in two layers
Contains 
4x sea salted caramel truffles 
4x raspberry and coconut truffles 
4x hazelnut praline truffles 
4x dark chocolate truffles 
Contains 16 truffles, 208g
Ingredients: dark chocolate (cocoa 55%) cocoa mass, sugar, cocoa butter, soy lecithin, natural vanilla flavouring), cream, butter, orange puree compound 7% , corn flour, icing sugar, invert sugar, glycerol, sorbitol, Milk chocolate (cocoa 34%) , Praline 51% (hazelnut,sugar) hazelnuts, White chocolate (cocoa 28%) (sugar, cocoa butter, whole milk powder, soy lecithin, natural vanilla flavouring) natural raspberry compound 12%, Caramel (sugar, double cream, butter, glucose, vanilla, sea salt 1%), cocoa powder.
Allergy advice: see ingredients in bold.
Made in a kitchen that handles nuts and gluten.