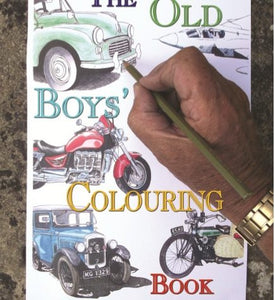 Broody designs. 
Introducing Broody Designs' "The Old Boy's Colouring Book"!
Embark on a nostalgic journey through the golden age of transportation with Broody Designs' "The Old Boy's Colouring Book." Immerse yourself in the timeless allure of vintage cars, motorcycles, and airplanes as you bring each page to life with your own artistic touch.
"The Old Boy's Colouring Book" showcases Broody Designs' exquisite illustrations, capturing the essence of classic automotive and aviation design. From sleek and powerful automobiles to roaring motorcycles and majestic airplanes, each page offers intricate details that invite you to rediscover the elegance and craftsmanship of these iconic vehicles.
Designed to evoke a sense of adventure and appreciation for the artistry of the past, this coloring book provides a therapeutic and immersive experience for coloring enthusiasts of all ages. Let your imagination take flight as you choose your colors, highlighting the unique features and timeless beauty of each vehicle.
Printed on high-quality paper, "The Old Boy's Colouring Book" ensures your colors remain vibrant and true to your artistic vision. Each page offers a blend of challenging and enjoyable illustrations, allowing you to refine your coloring skills while indulging in a journey through transportation history.
"The Old Boy's Colouring Book" is not only a delightful pastime for individuals but also an ideal gift for vintage car, motorcycle, and airplane enthusiasts. Whether you're seeking a thoughtful present for a special occasion or a way to share your passion for classic vehicles, this coloring book captures the spirit and excitement of the bygone era.
So, dust off your colored pencils, markers, or crayons, and prepare to revitalize the charm of vintage transportation with "The Old Boy's Colouring Book" by Broody Designs. Order your copy today and embark on an artistic adventure that celebrates the timeless beauty and nostalgia of classic cars, motorcycles, and airplanes. Get ready to unleash your creativity and create captivating artworks that pay homage to the iconic vehicles that shaped history.