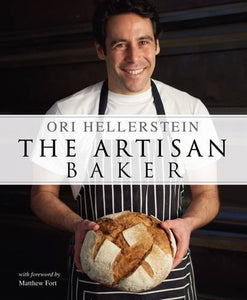 Written by Ori Hellerstein. 
Foreword by Matthew Fort.
 Ori Hellerstien has been passionate about food from a young age.
Ori Hellerstien would help his mother in her delicatessen is Isreal.
Ori Hellerstien graduated as a chef from "Le Cordon Bleu" a renowned french cookery school.
Ori Hellerstien worked as "Gavin at Windows" a Michelin resturant in london, working as a pastry chef specialising in breads, cakes and petit four.
Next Ori Hellerstian settles in the Cotswolds with his young family.
Here Ori set up a bakery school and his bakery "The Artisan Baker".
Introducing "The Artisan Baker" by Ori Hellerstein: A Masterclass in Crafting Irresistible Breads and Pastries!
Step into the world of artisanal baking with "The Artisan Baker" by renowned baker Ori Hellerstein. This comprehensive and inspiring book is your ultimate guide to creating delectable breads, pastries, and baked goods that will delight your taste buds and impress even the most discerning food enthusiasts.
Key Features:
Expert Guidance: Ori Hellerstein, a seasoned artisan baker, shares his wealth of knowledge and expertise in "The Artisan Baker." From essential baking techniques to advanced methods, this book offers step-by-step instructions and insightful tips that will help you master the art of baking and elevate your skills to new heights.

Wide Range of Recipes: "The Artisan Baker" presents a wide range of recipes that cater to every baking desire. Whether you crave crusty sourdough loaves, buttery croissants, delicate pastries, or rustic pies, Ori's collection of recipes has you covered. From classic favorites to unique flavor combinations, there's a recipe to suit every occasion and taste preference.

Elevating Ingredients: Discover the transformative power of high-quality ingredients as Ori emphasizes the importance of using the best flour, butter, spices, and other key components in your baking endeavors. Learn how to select and source ingredients that will elevate the flavor, texture, and overall quality of your baked goods.

Artistry in Baking: "The Artisan Baker" celebrates the artistry in baking, showcasing the beauty and craftsmanship that go into creating stunning breads and pastries. Ori's attention to detail and dedication to precision shine through as he guides you in mastering techniques such as shaping dough, scoring bread, laminating pastry, and more.

Troubleshooting and Tips: Encounter a baking challenge? Ori's got you covered. "The Artisan Baker" includes troubleshooting guides and tips to help you overcome common baking pitfalls and achieve consistent, exceptional results. Gain insights into common mistakes and learn how to avoid them, ensuring that your creations turn out picture-perfect every time.

Baking Philosophy and Inspiration: Dive into Ori's baking philosophy as he shares his passion for the craft and the inspiration behind his creations. Discover the joy of kneading dough, the satisfaction of seeing bread rise, and the aroma that fills the kitchen as baked goods emerge from the oven. Let Ori's enthusiasm ignite your own love for artisanal baking.

From Novices to Professionals: Whether you're a novice baker or an experienced professional, "The Artisan Baker" caters to all skill levels. Ori's accessible writing style and detailed instructions make this book suitable for anyone seeking to enhance their baking skills or start their journey in the world of artisanal baking.
"The Artisan Baker" by Ori Hellerstein is your passport to the world of exquisite breads, pastries, and baked goods. Unleash your creativity, embrace the joy of baking, and create mouthwatering creations that will impress family, friends, and even yourself. Order your copy today and let the aroma of freshly baked delights fill your kitchen as you embark on a delicious baking adventure!