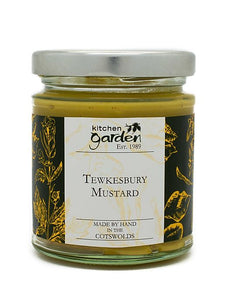 Handmade by Kitchen Garden foods.
Kitchen Garden Foods was started by Barbara Moinet in 1989.
Kitchen Garden Foods only supply small independent shops and never supermarkets.
Today Kitchen Garden Foods is run by James Moinet and James Horwood.
Kitchen Garden Foods use family recipes, and small batch production, the highest quality ingredients.
Kitchen Garden Foods have an exemplary record for food hygiene and customer service.
Introducing Kitchen Garden Foods 175g Tewkesbury Mustard – A Time-Honored Culinary Gem!
Step back in time to the 15th century with our Tewkesbury Mustard, a recipe steeped in tradition and even celebrated by Shakespeare himself ('his wit is as thick as Tewkesbury Mustard'). This exquisite blend of mustard and horseradish is a perfect marriage of flavors.
Ingredients and Allergens:
White Wine Vinegar
MUSTARD FLOUR (33%)
Cane Sugar
Sunflower Oil
HORSERADISH SAUCE (Horseradish, White Wine Vinegar, Sunflower Oil, Cane Sugar, Sea Salt, MUSTARD POWDER)
Water
MUSTARD SEED (6%)
Lemon Pulp
For allergen information, please review the ingredients list, where allergenic components are clearly indicated in CAPITALS.
Allergy Alert: Please be advised that our products are prepared in a kitchen where various allergens, including nuts, are handled.
Experience the historical and flavorful journey of Tewkesbury Mustard. Order yours today and savor the timeless blend of mustard and horseradish that's sure to ignite your taste buds!