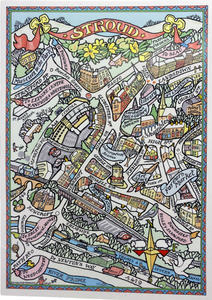 Introducing the Katie B Morgan "Stroud Map" Greetings Card, a delightful way to celebrate the beauty and charm of the picturesque town of Stroud. Designed by the talented artist Katie B Morgan, this unique card is a true work of art that captures the essence of Stroud in a whimsical and enchanting way.
The "Stroud Map" Greetings Card showcases Katie B Morgan's intricate hand-drawn illustration of Stroud, depicting its iconic landmarks, quaint streets, and natural beauty. Every detail is carefully crafted, from the charming cottages to the rolling hills that surround the town, bringing Stroud to life with vibrant colors and artistic flair.
Whether you're a Stroud local or a visitor with fond memories of this remarkable town, this greetings card serves as a special keepsake or a thoughtful gift. Send warm wishes, heartfelt thanks, or share the love for Stroud with your friends and family, knowing that this card is a unique representation of the place you hold dear.
The "Stroud Map" Greetings Card is printed on high-quality cardstock, ensuring a luxurious feel and durability. The blank interior offers ample space for personal messages, allowing you to express your sentiments with creativity and warmth. Each card comes with a matching envelope, making it ready to send or present as a cherished memento.
Whether framed as a mini artwork or treasured in a card collection, the Katie B Morgan "Stroud Map" Greetings Card is a delightful homage to Stroud's beauty, making it a perfect addition to your stationery collection or a lovely gift for anyone who cherishes the charm of this remarkable town.
Celebrate the magic of Stroud and share your love for this enchanting town with the Katie B Morgan "Stroud Map" Greetings Card. It's a unique and artistic expression of Stroud's beauty that will surely bring joy and a touch of whimsy to any occasion.
 By Katie B Morgan.
Katie B Morgan is and eclectic artist and illustrator.
Katie B Morgan has worked as an artist since 1985.
Katie B Morgan's work ranges from house illustrations, sign writing, slipware pottery, printed cushion designs, hand drawn maps, wall murals, fairground art and clock restoration.
Katie B Morgan is based in Wincombe Gloucestershire.
Katie B Morgan studied visual communication and illustration at Bath academy of art.
Katie B Morgan's first job was at Relic Antiques. At Relic Antiques she put her artistic skills to use painting wagons and fairground rides.
Katie B Morgan's hand drawn maps are often published in Cotswold Life Magazine.