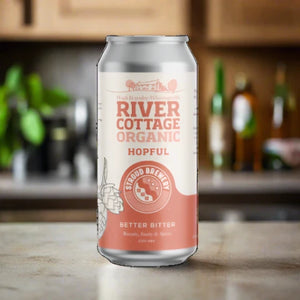 Founded in 2006, Stroud Brewery began as a passion project for our adventurous and environmentally conscious founder, Greg Pilley. A true beer enthusiast, Greg's mission was straightforward: to craft exceptional-tasting beers for the local community while embodying the positive change he envisioned in the business world.
Fast forward to today, and Stroud Brewery stands as a flourishing enterprise. Our tap room, now a beloved local landmark in Stroud, has evolved into a vibrant social hub. We take pride in producing not only great-tasting but also ethical and organic beers. At Stroud Brewery, we don't just brew beverages; we create inviting and enjoyable spaces for our community to come together.
"Embracing the Pinnacle of Innovation: A Toast to Unique Organic UK Hops
Savor the Biscuity, Fruity, and Spiced Elegance of Our Best Bitter
In the vast world of hop varieties, only five organic strains are cultivated in the UK, but we're determined to alter that reality. Our Best Bitter, adorned with floral notes and enveloped in the intoxicating aromas of hops, is a tribute to the burgeoning diversity within our hop project. It also champions the cause of wildlife biodiversity on organic hop farms.
We take great pride in our partnership with Hugh and the River Cottage team, utilizing our organic beer as a catalyst for change.
Ingredients:
Pure Water
Organic Barley Malt
Organic Wheat Malt
Organic Hops
Yeast
Allergens: Contains Gluten from the sources highlighted.
Suitable for Vegans and Vegetarians."