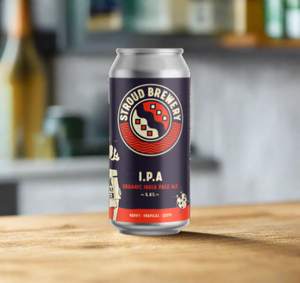 Founded in 2006, Stroud Brewery began as a passion project for our adventurous and environmentally conscious founder, Greg Pilley. A true beer enthusiast, Greg's mission was straightforward: to craft exceptional-tasting beers for the local community while embodying the positive change he envisioned in the business world.
Fast forward to today, and Stroud Brewery stands as a flourishing enterprise. Our tap room, now a beloved local landmark in Stroud, has evolved into a vibrant social hub. We take pride in producing not only great-tasting but also ethical and organic beers. At Stroud Brewery, we don't just brew beverages; we create inviting and enjoyable spaces for our community to come together.
Stroud Brewery's IPA is a bold and flavorful beer that's perfect for hop lovers. This India Pale Ale is brewed with a blend of carefully selected hops from around the world, which give it a unique and complex flavor profile that's both bold and refreshing.
With a golden amber color and a fluffy white head, Stroud Brewery's IPA is an inviting beer that looks as good as it tastes. The aroma is a pleasant mix of citrus, pine, and floral notes, with a subtle hint of sweetness.
On the palate, the Stroud Brewery IPA is bursting with bold hop flavors that are balanced by a subtle malt backbone. The citrus and tropical fruit notes are prominent, with a hint of pine and a mild bitterness that gives it a refreshing finish.
With an ABV of 5.6%, this IPA is well-balanced and easy to drink, making it a great choice for any occasion. Whether you're enjoying it on its own or pairing it with your favorite food, Stroud Brewery's IPA is a must-try beer that's sure to please even the most discerning hop heads.