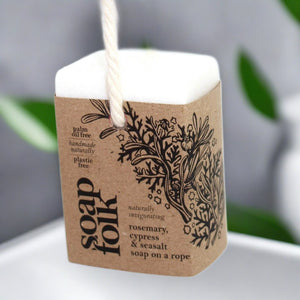 Handmade by Soap folk.
Introducing Soap Folk Rosemary, Cypress, and Sea Salt Soap on a Rope 200g Bar:
Indulge in the refreshing and invigorating experience of Soap Folk's Rosemary, Cypress, and Sea Salt Soap on a Rope. Crafted with care and expertise, this 200g bar combines nature's finest ingredients to bring you a truly exceptional bathing ritual.
Our soap is meticulously handmade in small batches, ensuring the highest quality and attention to detail. We believe in the power of nature to heal and nourish, which is why we carefully select each ingredient to create a harmonious blend that will leave your skin feeling revitalized and rejuvenated.
The invigorating scent of rosemary and cypress fills the air as you lather up with this luxurious soap. These aromatic essential oils not only provide a delightful fragrance but also offer a range of benefits for both your skin and senses. Rosemary is known for its stimulating properties, promoting mental clarity and awakening your senses, while cypress has a refreshing and uplifting effect on the mind and body.
Enriched with the goodness of sea salt, this soap provides gentle exfoliation, helping to remove dead skin cells and reveal a smoother, healthier complexion. Sea salt is packed with minerals that can aid in detoxifying the skin, leaving it feeling clean, purified, and balanced.
The addition of our unique rope design makes this soap convenient and practical for everyday use. Hang it in your shower or by your sink, and you'll always have a luxurious bathing experience at your fingertips. The rope also ensures that the soap remains dry between uses, extending its lifespan and preventing wastage.
At Soap Folk, we take pride in our commitment to sustainability. Our soap is free from synthetic fragrances, artificial colors, and harsh chemicals, making it suitable for even the most sensitive skin types. We use only natural, ethically sourced ingredients, and our packaging is made from recycled and recyclable materials.
Treat yourself to the ultimate bathing indulgence with Soap Folk Rosemary, Cypress, and Sea Salt Soap on a Rope. Experience the refreshing scent, the gentle exfoliation, and the natural nourishment that will leave your skin feeling revived, rejuvenated, and beautifully fragrant. Elevate your daily cleansing routine with the exquisite quality and mindful craftsmanship that Soap Folk stands for.
Order your 200g bar today and discover the transformative power of nature's finest ingredients. Pamper yourself or surprise a loved one with a gift that embodies luxury, sustainability, and the pure joy of self-care.