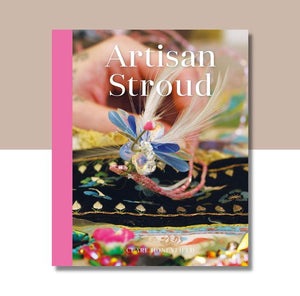 Published by The History Press.
Signed by the author. Available with a personal message from Clare - just ask when you order.
Clare Honeyfield has documented 25 conversations with artisans, makers and artisan from Stroud, Gloucestershire in this interesting and informative book.  
The foreword of the book is written by artist and sculptor Andrew Wood, founder of Prema in Uley and a full time makers based in Stroud Town Centre. Andrew is the creator of "The Word", and changing sculpture in London Road opposite The Corner House restaurant and bar. 
Beautifully illustrated with full colour photographs and featuring a wide range of makers, Artisan Stroud is a testament to the ingenuity and creativity of the five valleys. The author, Clare Honeyfield, takes us on a tour of hidden studios and delves into the hearts and minds of these successful artisans, exploring the obstacles to success they have overcome.
Clare Honeyfield started working with makers in the 1991 and 1992 when she organised a series of Christmas "Made in Stroud" makers markets in the Shambles (St Lawrence Church Hall) and then in The Ballroom of Stroud Subscription Rooms. 

The Blow Family and particularly Isabella Blow took a keen interest in Clare's concept and Clare and Isabella tried to open a Craft Barn at Edge Farm but were thwarted by planning restrictions. 
In 1999 Clare founded Stroud Farmers Market which Isabella and her friend Jasper Conran kindly agreed to officially open.
Clare started the Made in Stroud Shop as a cooperative of makers when she needed to move from hot desking at Stroud Valleys Project and half of the shop was a dedicated "Farmers Market Information Point". Clare was a founding director of The National Association of Farmers Markets and joint founder of many projects in Gloucestershire showcasing local produce.