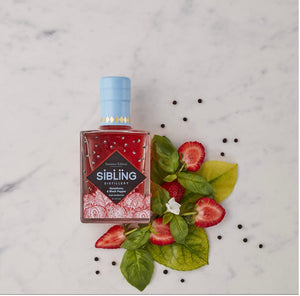 Sibling distillery was started in 2014 in by siblings Felix, Cicley, Clarice, and Felix. 
Sibling distillery is based near Cheltenham. 
Sibling distilleries founder parents started Battledown brewery. 
As with Siblings original gin, this seasonal is 100% made from scratch to the Sibling quality, then infused with fresh strawberries and homemade black pepper syrup. This is the perfect gin for a summer G&T, served with a sliced strawberry, some fresh basil and lots of ice.
These gins are flavoured and coloured naturally, so over time the colour may fade. Shake before use if left untouched for a long period.
42%, 35CL, strawberry and black pepper infusions.
Delivery will require a signature from an over 18 – we are unable to leave a package without a signature.
Capture the essence of summer with Sibling Distillery Summer Edition Gin, the perfect way to quench your thirst on a hot summer day. Distilled in small batches in the heart of England, this premium gin features a unique blend of botanicals carefully selected to capture the flavors of the season.
Presented in a stylish 35cl bottle, this gin is a perfect gift for gin lovers. Made with the finest juniper berries, cucumber, lemon, lime, and mint, this gin is light, refreshing, and bursting with flavor.
The Summer Edition Gin is perfect for mixing up refreshing cocktails that are perfect for sipping on a sunny day. Serve it with tonic water and a slice of cucumber for a refreshing and crisp drink, or mix it with your favorite fruit juices for a colorful and vibrant cocktail.
Experience the flavors of summer in every sip with Sibling Distillery Summer Edition Gin. Whether you're relaxing on the beach, hosting a backyard barbecue, or enjoying a picnic in the park, this gin is the perfect way to savor the season.
So why wait? Treat yourself or a loved one to a bottle of Sibling Distillery Summer Edition Gin today and toast to the joys of summer!