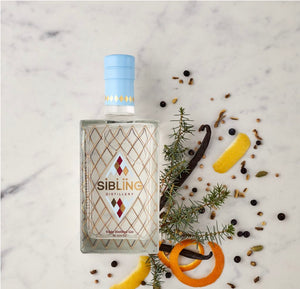 Introducing Sibling Distillery Original Gin, a true testament to the craft of gin making. This premium gin is meticulously crafted by the talented team at Sibling Distillery, showcasing their dedication to quality and innovation.
Sibling Distillery Original Gin is expertly distilled in small batches using a carefully selected blend of botanicals. Each botanical is individually chosen for its unique flavor profile, resulting in a harmonious and balanced gin that delights the senses.
With a 70cl bottle size and an ABV of 42%, this gin offers a generous amount to be enjoyed on various occasions. Whether you prefer it in a classic G&T, a creative cocktail, or sipped neat, Sibling Distillery Original Gin delivers a smooth and refined experience.
Immerse yourself in the vibrant and complex flavors of Sibling Distillery Original Gin. Juniper berries provide a classic gin foundation, while citrus notes add a refreshing zing. Subtle hints of floral and herbal elements intertwine, creating a gin that is both versatile and distinctive.
The Sibling Distillery Original Gin bottle is beautifully designed, reflecting the craftsmanship and attention to detail that goes into every batch. It makes for an excellent addition to any home bar or a thoughtful gift for gin enthusiasts.
Experience the artistry of Sibling Distillery Original Gin and elevate your gin-drinking experience. With its impeccable flavor profile and impeccable quality, this gin is a testament to the dedication and passion of the Sibling Distillery team. Indulge in the essence of fine gin with Sibling Distillery Original Gin.
Sibling distillery was started in 2014 in by siblings Felix, Cicley, Clarice, and Felix. 
Sibling distillery is based near Cheltenham. 
Sibling distilleries founder parents started Battledown brewery. 
Siblings original Triple Distilled Gin has become renowned for its modern, fresh profile. Subtle notes of fresh lemon and light juniper lead, while distinctive tones of vanilla and blueberry round off some of the sharper fore-flavours and give the gin its characteristic smoothness. Best served with a small slice of orange, a twist of orange peel or blueberries, this is an easy drinking and versatile gin.

70CL bottle
Delivery will require a signature from an over 18 – we are unable to leave a package (even in a 'safe place') without a signature.