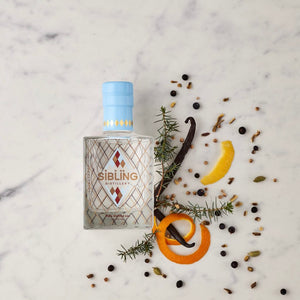 Sibling distillery was started in 2014 in by siblings Felix, Cicley, Clarice, and Felix. 
Sibling distillery is based near Cheltenham. 
Sibling distilleries founder parents started Battledown brewery. 
Siblings original Triple Distilled Gin has become renowned for its modern, fresh profile. Subtle notes of fresh citrus and light juniper lead, while distinctive tones of vanilla and blueberry round off some of the sharper fore-flavours and give the gin its characteristic smoothness. Best served with a small slice of orange, a twist of orange peel or blueberries, this is an easy drinking and versatile gin.

35CL, 42%ABV
Delivery will require a signature from an over 18 – we are unable to leave a package without a signature.
Sibling Distillery Original Gin is a premium gin crafted with the utmost care and attention to detail. This 35cl bottle of gin is the perfect size for those who appreciate quality over quantity. The gin is infused with a carefully selected blend of botanicals, including juniper, coriander, lemon peel, and cardamom, which give it a complex and distinctive flavor profile.
The gin is crafted in small batches using traditional copper stills, allowing for a precise and consistent flavor with each batch. With a 42% ABV, this gin has a smooth and crisp taste that is perfect for sipping on its own or mixing into your favorite cocktail.
Sibling Distillery Original Gin is an excellent addition to any gin lover's collection. Its clean and bright flavor profile makes it a versatile spirit that pairs well with a variety of mixers and garnishes. It's perfect for creating classic gin cocktails, such as a gin and tonic or a martini, as well as more creative and unique concoctions.
Whether you're a seasoned gin connoisseur or just starting to explore the world of gin, Sibling Distillery Original Gin is a must-try. Its exceptional quality and delicious taste are sure to impress. Order your bottle today and elevate your drinking experience.