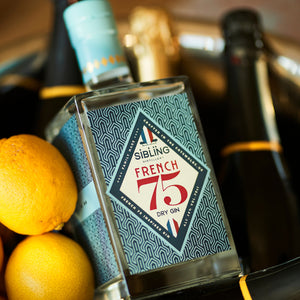 Experience Unparalleled Luxury with Sibling Distillery French 75 Dry Gin
Indulge in the epitome of opulence with Sibling Distillery French 75 Dry Gin, our most exquisite creation yet. Meticulously crafted with the finest ingredients, this gin embodies sheer elegance and refinement. Distilled using champagne-blend grape skins sourced from our local Dryhill Vineyard and enhanced with slices of fresh lemon, it exudes a radiant brightness and a subtle nod to the classic cocktail that inspired it.
Immerse yourself in the vibrant aroma of Sibling Distillery French 75 Dry Gin, where lively lemon notes intertwine harmoniously with the unmistakable essence of juniper. With each sip, your taste buds will be captivated by a full-bodied flavor profile, boasting a symphony of citrus and floral tones. The grapes lend a luxurious richness, while a delicate touch of vanilla adds a subtle sweetness that dances on the palate.
Prepare for an unforgettable finale as the finish of Sibling Distillery French 75 Dry Gin lingers, delivering an enchanting lightness that is truly remarkable. Revel in the delightful, sweeter citrus notes that leave you yearning for another sip, succumbing to their irresistible allure. We are confident that you will fall head over heels for this extraordinary gin, just as we have.
To fully appreciate the splendor of this gin, we recommend serving it with regular tonic, generous amounts of ice, and a twist of lemon peel. For an extra touch of complexity and a nod to tradition, add a sprig of rosemary. This herbaceous element not only elevates the drink but also pays homage to the classic serving style of the original cocktail.
Each bottle of Sibling Distillery French 75 Dry Gin encapsulates the essence of luxury, offering an unrivaled sensory experience that is sure to impress. Whether you're seeking an exceptional addition to your gin collection or searching for a remarkable gift, this gin is an impeccable choice. Elevate your drinking experience with Sibling Distillery French 75 Dry Gin today and embark on a journey of unparalleled indulgence. Cheers to the perfect blend of gin, champagne, and lemon!