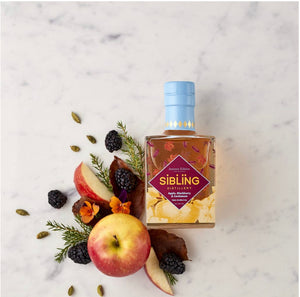 Sibling distillery was started in 2014 in by siblings Felix, Cicley, Clarice, and Felix. 
Sibling distillery is based near Cheltenham. 
Sibling distilleries founder parents started Battledown brewery. 
Infused with fresh apples and blackberries with a hint of cardamom.

Siblings signature Triple Distilled Gin takes on a beautiful lightly spiced and bright fruity flavour in our newest Limited Edition, reminiscent of all the things we love about Autumn. Delicious with tonic and a slice of fresh apple, sparkling apple (Bottlegreen does a great Sparkling Cox's Apple) or even on its own.
As all of the flavour and colour is natural, if left for long periods untouched a small amount of sediment will form – shaking the bottle will solve this.
42% – 35cl
Delivery will require a signature from an over 18 – we are unable to leave a package without a signature.
Welcome the arrival of autumn with Sibling Distillery Autumn Edition Gin, the perfect way to toast the changing of the seasons. Distilled in small batches in the heart of England, this premium gin features a unique blend of botanicals carefully selected to capture the flavors and aromas of autumn.
Presented in a stylish 35cl bottle, this gin is a perfect gift for gin lovers. Made with the finest juniper berries, apple, blackberry, cinnamon, and nutmeg, this gin is warm, rich, and full of flavor.
The Autumn Edition Gin is perfect for mixing up cocktails that evoke the feeling of the season. Serve it with ginger ale and a slice of apple for a warming and cozy drink, or mix it with your favorite spiced syrups for a festive and flavorful cocktail.
Experience the flavors of autumn in every sip with Sibling Distillery Autumn Edition Gin. Whether you're curled up by the fire or hosting a cozy dinner party, this gin is the perfect way to savor the season.
So why wait? Treat yourself or a loved one to a bottle of Sibling Distillery Autumn Edition Gin today and raise a glass to the beauty of autumn.