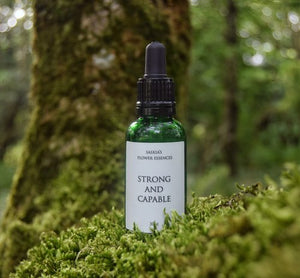 Handmade by Saskia's Flower Essences.
Saskia Flower Essences was founded by Saskia Marjoram.
Sakia Marjoram was a professional gardener for HRH Prince of Wales for many years.
Saskia Flower Essences was started in 2003.
Saskia Marjoram has been a professional gardener for over 30 years.
Empowerment and Confidence Unleashed
In moments of self-doubt when you seek encouragement and a reaffirmation of your inner strength and capabilities, this blend stands ready as your supportive ally. There are times when we require external reminders of our innate potential and true power. As you harness your inner strength, you pave the way for others to do the same.
This blend is thoughtfully crafted to assist you in overcoming negative thoughts and societal conditioning related to masculinity, strength, and power, while nurturing a deep love and acceptance of yourself.
Within this blend, you'll find the transformative energy imprint of:
Borage – instilling courage.
Carrot - cultivating creative discipline.
Crab Apple – releasing guilt and shame.
Dandelion – boosting self-confidence.
Pine - fortifying inner strength.
Potentilla – fostering self-love.
Wild Garlic – providing universal support.
It's crucial to underscore that these essence blends transcend gender distinctions; they are open and beneficial to all individuals. While they may resonate with anyone, we recognize that many men and boys may confront the very challenges these blends address, and thus, we aim to make these essences more accessible to those who may not have considered using them previously.