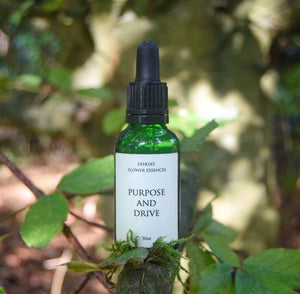 Handmade by Saskia's Flower Essences.
Saskia Flower Essences was founded by Saskia Marjoram.
Sakia Marjoram was a professional gardener for HRH Prince of Wales for many years.
Saskia Flower Essences was started in 2003.
Saskia Marjoram has been a professional gardener for over 30 years.
Purpose and Determination Unleashed
In moments when life lacks direction, when uncertainty clouds your path, or when energy and self-assurance seem distant, this blend is your ally. Discovering your true purpose in life can be a formidable task, and embarking on the journey to pursue your dreams can feel daunting. Confidence in yourself and your abilities may appear elusive.
This unique blend is crafted to offer unwavering support as you uncover and pursue your purpose with confidence and resolute determination, empowering you to confront obstacles and tackle challenges head-on.
Please note that it is not recommended to take this blend in the evening, unless you naturally thrive during nighttime hours.
This blend carries the energetic imprint of:
Bee Orchid – guiding you to find your place in the world.
Blackberry – nurturing fruitful growth.
Buttercup – igniting creative confidence.
Edelweiss - fostering openness to all possibilities.
Hornbeam – providing the motivation to get up and go.
Nan's Polyanthus – encouraging action, simply "do it."
Peppermint – enhancing clear thinking.
Twayblade – inspiring a leap of faith.
It is important to emphasize that these essence blends transcend gender distinctions; they are available and beneficial to all individuals. While they may resonate with anyone, we acknowledge that many men and boys may grapple with the challenges these blends address, and thus, we have endeavored to make these essences more accessible to those who may not have considered using them before.