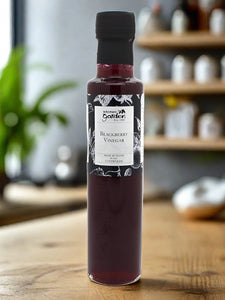 Handmade by Kitchen Garden Foods. Perfect for salads. 
Kitchen Garden Foods was started by Barbara Moinet in 1989.
Kitchen Garden Foods only supply small independent shops and never supermarkets.
Today Kitchen Garden Foods is run by James Moinet and James Horwood.
Kitchen Garden Foods use family recipes, and small batch production, the highest quality ingredients.
Kitchen Garden Foods have an exemplary record for food hygiene and customer service.
Kitchen Garden Foods Raspberry Vinegar is a premium quality condiment that adds a sweet and tangy flavor to your dishes. Made with fresh raspberries, this vinegar is carefully blended with high-quality red wine vinegar to create a perfect balance of sweetness and acidity.
The bright and fresh flavors of raspberries make this vinegar a perfect addition to your salad dressings, marinades, and sauces. It's also an excellent ingredient for adding a unique twist to desserts such as fruit salads or sorbets.
This vinegar is made using only natural ingredients and is free from any artificial preservatives, flavors, or colors. The 260ml bottle is perfect for keeping on your kitchen counter or dining table, making it easy to add a delicious and flavorful touch to any meal.
Kitchen Garden Foods Raspberry Vinegar is perfect for those who love to experiment with new flavors and ingredients in their cooking. So whether you're a professional chef or a home cook, this vinegar is a must-have in your kitchen pantry