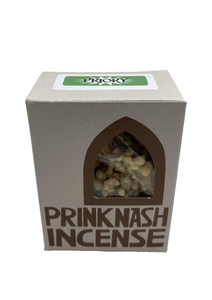 This beautiful incense mix was made by the monks at Prinknash Abbey. 


Priory is the simplest incense in the range and is pure frankincense. 
Prinknash Incense is made by the Benadictine monks of Prinknash Abbey.
Prinknash Incense began in 1906.
Prinknash Incense are the oldest major incense blenders in Europe.
Prinknash Incense is based in Cranham, Gloucestershire.
Priory stands as our most straightforward incense, consisting solely of pure frankincense without any additional oils. Originating from South Arabia and the Horn of Africa, frankincense, also known as gum olibanum, has served as the fundamental component of incense for millennia.
While the primary use of Prinknash incense remains in churches and cathedrals, its historical application in personal and home settings for its enchanting fragrance and ambiance continues. The trend of personal usage is on the rise, and our individual incense packs are tailored perfectly for this purpose. Each pack includes approximately 50 grams of our premium incense along with a set of quick-lighting charcoal disks securely sealed in foil.