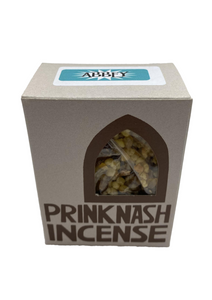 This beautiful incense mix was made by the monks at Prinknash Abbey. 


Abby is incense made with pure frankincense and natural oils. 
Prinknash Incense is made by the Benadictine monks of Prinknash Abbey.
Prinknash Incense began in 1906.
Prinknash Incense are the oldest major incense blenders in Europe.
Prinknash Incense is based in Cranham, Gloucestershire.
Crafted from recipes originating from the monks, Prinknash Abbey's incense is a fusion of pure frankincense and natural oils, resulting in a distinctive and captivating fragrance. Years of meticulous blending have solidified its exceptional quality, maintaining a constant and high demand.
While predominantly utilized in churches and cathedrals, Prinknash incense has also found a place in homes for its enchanting scent and ambiance. Its personal usage is increasingly popular, particularly with the availability of individual incense packs. These packs, containing approximately 50 grams of our finest incense along with quick-lighting charcoal disks sealed in foil, cater to personal use.
Since 1906, the Benedictine Monks of Prinknash Abbey have been refining their incense-making craft. Originating from their time on Caldey Island, they have evolved into the oldest and foremost incense blenders in Europe. Through their expertise, they've developed distinctive methods for harmonizing Arabian frankincense with precious aromatic oils and spices, formulating exceptional recipes for various types of incense. The present-day blends produced at the abbey adhere to these time-honored recipes, maintaining an unwavering standard of excellence that has garnered loyal customers across every continent.