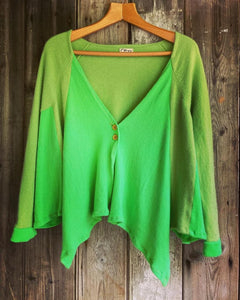 Handmade by Nimpy Clothing.
Nimpy Clothing is run by Noemi Gregoire.
Nimpy Clothing started sewing at age 12. 
Nimpy Clothing focus on upcycling, ethical fashion, nuno-felting, the environment, and natural material. 


At Nimpy Clothing, we are proud to offer a unique and sustainable fashion collection made entirely from upcycled materials. Our garments are crafted using Upcycled cashmere, Upcycled linen, and handmade felted nuno fabrics, giving each piece a luxurious and artistic feel.
We are committed to minimizing waste and reducing our carbon footprint by using materials that are upcycled, recycled, or biodegradable. All of our garments are handmade and one-off, making them truly unique and a statement piece in any wardrobe.
Our collection includes a range of stylish and comfortable options, including sweaters, cardigans, dresses, and accessories. Our Upcycled cashmere pieces are soft, warm, and perfect for layering during the colder months, while our Upcycled linen garments are lightweight, breathable, and ideal for warmer weather.
Our handmade felted nuno fabrics are crafted using traditional felting techniques, resulting in a unique and artistic look. Each piece is handmade and one-of-a-kind, making it a true work of art that reflects the creativity and passion of our designers.
At Nimpy Clothing, we believe in creating sustainable fashion that is beautiful, functional, and eco-friendly. We are committed to promoting ethical and fair trade practices and empowering women in the fashion industry.
Join us in our mission to create a more sustainable and beautiful world with Nimpy Clothing. Shop our collection now and discover a new level of sustainable luxury