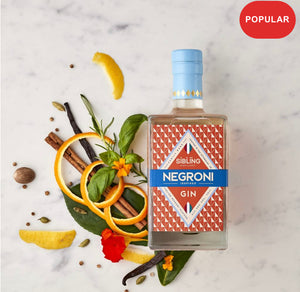 Handmade by Sibling distillery 38%
Sibling distillery was started in 2014 in by siblings Felix, Cicley, Clarice, and Felix. 
Sibling distillery is based near Cheltenham. 
Sibling distilleries founder parents started Battledown brewery. 


Introducing Sibling Distillery Negroni Gin, a premium gin crafted specifically for the classic Negroni cocktail. This 70cl bottle of gin is infused with a carefully selected blend of botanicals, including juniper, orange peel, and coriander, which work together to create a unique and flavorful base for your favorite Negroni recipe.
With a 38% ABV, this gin is smooth and sophisticated, perfect for creating a Negroni that is both balanced and complex. Its rich, complex flavor profile and herbaceous notes make it a perfect match for the bold flavors of Campari and sweet vermouth.
In addition to being a perfect base for a Negroni, Sibling Distillery Negroni Gin can also be enjoyed on its own or in a variety of other cocktails. Its versatile flavor makes it an excellent addition to any home bar.
Treat yourself or a Negroni lover in your life to a bottle of Sibling Distillery Negroni Gin today and elevate your cocktail game.