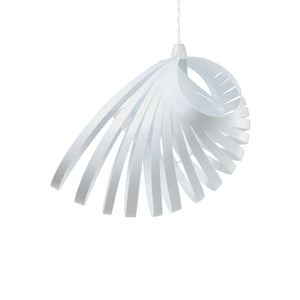 Introducing the Kaigami Nautica White Pendant Lampshade:
Illuminate your space with the elegance and contemporary style of the Kaigami Nautica White Pendant Lampshade. This exquisite piece combines modern design with functionality, creating a captivating lighting solution that effortlessly enhances any room in your home.
Kaigami is renowned for its innovative approach to lighting design, and the Nautica Pendant Lampshade is no exception. Crafted with precision and attention to detail, this lampshade features a unique geometric pattern that casts mesmerizing shadows when illuminated. The clean lines and graceful curves create a striking visual impact, adding a touch of sophistication to your living space.
The Nautica Pendant Lampshade is crafted from high-quality, durable materials, ensuring longevity and reliability. The white color allows for versatility, seamlessly blending with any decor style and color scheme. Whether you hang it in your living room, dining area, bedroom, or hallway, it becomes an eye-catching centerpiece that radiates warmth and ambiance.
This pendant lampshade is designed to fit most standard light fittings, making it easy to install and enjoy. When lit, the intricate pattern filters the light beautifully, creating a soft and inviting glow that illuminates your space with a captivating charm. It is perfect for creating a cozy ambiance or providing focused lighting for specific areas.
The Kaigami Nautica White Pendant Lampshade is not only a functional lighting solution but also a stunning decorative piece. Its contemporary design and timeless appeal make it a versatile choice for both modern and traditional interiors. It serves as a statement piece that effortlessly elevates the aesthetics of your home.
Experience the beauty and artistry of the Kaigami Nautica White Pendant Lampshade. Illuminate your space with a touch of contemporary elegance and captivate your guests with its unique geometric design. Let the interplay of light and shadows transform your room into a haven of style and sophistication.
Order your Kaigami Nautica White Pendant Lampshade today and add a modern and artistic touch to your living space. Treat yourself or surprise a loved one with a gift that brings both functional and aesthetic value. Experience the beauty of Kaigami's innovative lighting design and create a captivating atmosphere in your home.
Made by Kaigami. 
 Kaigami have created this Nautica lampshade from environmentally friendly recycled polypropylene and recycled plastic rivets giving this lampshade the eco credentials you want in your home.
The founder of Kaigami studied design at Goldsmiths college London.
This Kaigami "Nautica" lampshade is inspired by Nautica seashells. These shells are found worldwide, most in the tropics but a few have been found in the Arctic. They have a one half-moon aperture (the opening at the front end of gastropod shells). The shell is hard and spherical shaped.
Approx dimensions width 35cm, depth 35cm, height 27 cm.