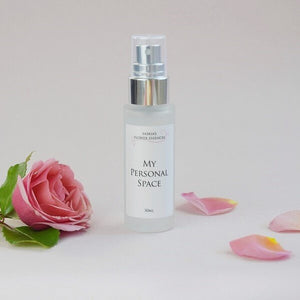 Handmade by Saskia's Flower Essences.
Saskia's Flower Essences was founded by Saskia Marjoram.
Sakia's Marjoram was a professional gardener for HRH Prince of Wales for many years.
Saskia's Flower Essences was started in 2003.
Saskia's Marjoram has been a professional gardener for over 30 years.
Containing pure rosewater distilled by Saskia herself from roses cultivated in Somerset, this enchanting, award-winning spray is your shield against the energies and thoughts of others.
It proves invaluable for individuals facing bullying, those navigating office environments or communal living situations, coping with crowded spaces, enduring long-haul flights, bus or train rides, and especially for those seeking to fortify their personal boundaries.
A direct mist onto your face not only offers protection but also rejuvenates your skin, allowing it to absorb the renowned healing properties of roses.
For more detailed information about this remarkable mist, please click here.
This exquisite blend incorporates the following essences:
Yarrow: Provides psychic protection and facilitates the separation of self from others.
Borage: Enhances your ability to cope with life's challenges in a composed manner.
Walnut: Safeguards against the influence of others' opinions.
Nettle: Empowers you to assert yourself and maintain healthy boundaries.
Buttercup: Boosts self-confidence.
Potentilla: Encourages self-love and self-acceptance, just as you are.