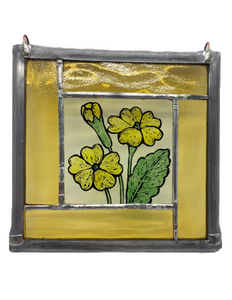 Introducing the exquisite Liz Dart Stained Glass Primrose Panel, a captivating work of art that beautifully captures the delicate and cheerful nature of this beloved spring flower. Handcrafted with meticulous care and attention to detail, this stunning masterpiece is designed to bring a touch of natural beauty and joy to any space, making it a truly enchanting addition to your home or office.
The primrose panel showcases the vibrant yellow petals and tender green leaves of this charming bloom. Each individual glass piece is carefully selected and expertly hand-cut, allowing for precise detailing and an intricate design that truly brings the primrose to life. The interplay of colors creates a mesmerizing effect as light filters through the glass, casting a soft and uplifting ambiance in any room.
Crafted with exceptional craftsmanship and using high-quality materials, this stained glass panel is built to be both durable and visually striking. The soldered metal frame not only provides structural integrity but also enhances the overall aesthetic appeal of the artwork. With its [dimensions], this panel can be easily displayed as a standalone piece or incorporated into a larger stained glass installation, allowing for versatility in its placement.
The Liz Dart Stained Glass Primrose Panel not only serves as a striking decorative element but also celebrates the beauty and symbolism of the primrose flower. Primroses are often associated with youth, renewal, and the arrival of spring. Their presence brings a sense of happiness and a reminder of the simple pleasures in life.
Ideal as a gift for flower enthusiasts, nature lovers, or anyone who appreciates the delicate beauty of primroses, this stained glass panel is truly a one-of-a-kind masterpiece. Each panel is meticulously handcrafted by the talented artist, Liz Dart, renowned for her exceptional skill in capturing the essence of nature in her creations.
Transform your living space with the enchanting allure of the Liz Dart Stained Glass Primrose Panel. Immerse yourself in the beauty of this cheerful flower and let its vibrant energy and natural charm fill your surroundings. Place your order today and experience the transformative power of this extraordinary work of art.
Handmade by Liz Dart Stained Glass. 
Liz Dart Stained Glass hand makes her stained glass in her studio in Inchbrook near Stroud in the Cotswolds. Liz Dart started as a glass painter's apprentice 25 years ago and has been hooked since. 
Liz Dart Stained Glass was one of the original 25 makers to start selling in Made in Stroud in December 2000 when we opened. 
 Hand painted and fired design with traditional glass paint and enamels and blue glass border. Copper foiled panel with Lead border and wire hanging hoops. Approx 14cm x 14cm