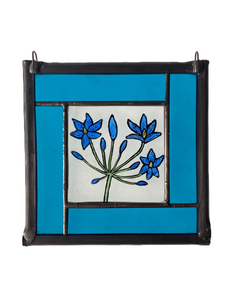 Handmade by Liz Dart Stained Glass. 
Introducing the Liz Dart Stained Glass Agapanthus Panel: A Radiant Work of Art for Your Space
Elevate your living space with the mesmerizing beauty of the Liz Dart Stained Glass Agapanthus Panel, a stunning piece of handcrafted artistry that will captivate and inspire. This exquisite stained glass panel is the creation of the talented artist Liz Dart, renowned for her exceptional craftsmanship and ability to infuse nature's elegance into her creations.
Key Features:
1. Masterful Artistry: The Liz Dart Stained Glass Agapanthus Panel showcases a true mastery of the stained glass medium. With meticulous attention to detail, each delicate petal, leaf, and stem is painstakingly crafted to recreate the grace and intricacy of the Agapanthus flower. This panel is a testament to the artist's dedication to her craft.
2. Vivid Colors: The color palette employed in this panel is nothing short of breathtaking. Rich, vibrant blues and greens capture the essence of the Agapanthus flower, while subtle gradations add depth and dimension. When sunlight filters through the glass, it dances and shimmers, creating a kaleidoscope of colors that will enchant any space.
3. Quality Materials: Liz Dart uses only the finest quality stained glass and solder to ensure that each piece is not only beautiful but also durable. The craftsmanship of the panel is built to withstand the test of time, making it a true investment in art.
4. Versatile Display: The Agapanthus Panel is a versatile piece that can be displayed in a variety of settings. Whether you choose to hang it in a window to catch the sunlight, mount it on a wall as a stunning centerpiece, or use it as a room divider, it will add a touch of elegance and beauty to any room.
5. Handcrafted Excellence: Each panel is individually handcrafted by Liz Dart, ensuring that you receive a unique piece of art that is infused with the artist's passion and creativity. No two panels are exactly alike, making your Agapanthus Panel a one-of-a-kind treasure.
6. Perfect for Gifting: The Liz Dart Stained Glass Agapanthus Panel makes an exceptional gift for art enthusiasts, nature lovers, or anyone with an appreciation for the finer things in life. Its timeless beauty and enduring quality ensure that it will be cherished for generations.
Bring the allure of the natural world into your home with the Liz Dart Stained Glass Agapanthus Panel. Whether you're looking to enhance your living space, create a captivating focal point, or simply own a piece of exquisite art, this panel is a testament to the artist's dedication and talent, and it will undoubtedly become a cherished addition to your space. Order yours today and experience the enchanting beauty of the Agapanthus flower in a whole new light.
Liz Dart Stained Glass hand makes her stained glass in her studio in Inchbrook near Stroud in the Cotswolds. Liz Dart started as a glass painter's apprentice 25 years ago and has been hooked since. 
Liz Dart Stained Glass was one of the original 25 makers to start selling in Made in Stroud in December 2000 when we opened. 
 Hand painted and fired design with traditional glass paint and enamels and blue glass border. Copper foiled panel with Lead border and wire hanging hoops. Approx 14cm x 14cm
Liz Dart Stained Glass is a collection of beautifully handcrafted stained glass pieces that are perfect for adding a touch of elegance and color to any room. Each piece is individually designed and made by Liz Dart, a talented stained glass artist with over 25 years of experience in the craft.
The collection includes a range of stunning pieces, from intricate sun-catchers and window hangings to other decorative pieces. Liz's designs are inspired by the natural world, with rich and vibrant colors that reflect the beauty of the outdoors.
Each piece is made using traditional stained glass techniques, with careful attention paid to every detail. The result is a collection of unique and eye-catching pieces that are sure to become a focal point in any space.
Liz Dart Stained Glass pieces make for the perfect gift for anyone who appreciates the beauty and craftsmanship of handmade art. They are also ideal for adding a touch of color and personality to your home, office, or any other space.
Browse our collection of Liz Dart Stained Glass pieces and add a touch of timeless beauty to your decor.