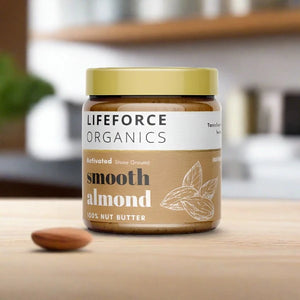 Introducing Lifeforce Organics' Raw Activated Almond Butter – a sumptuously smooth and health-conscious delight created from sustainably sourced Single-origin Organic Italian almonds. Each jar is a testament to our commitment to quality and taste, finely crafted through stone-ground techniques. This almond butter invites you to transcend the ordinary, enhancing both your savory and sweet culinary endeavors. From enriching smoothies and granola to adorning toasts and inspiring intricate recipes, its versatility knows no bounds.
Allergen Advice:
For the peace of mind and safety of our customers with high-risk allergies, we maintain a strict policy of zero contact, storage, or processing of peanuts or sesame seeds in any form.
Other Allergens: Our production facility does handle all other types of tree nuts along with mustard and soya. While we ensure utmost care and separation, please be aware of potential cross-contamination.
Nutritional Facts Typical Nutritional value per 100g
Energy: 2466 kJ / 589 Kcal
Fat: 52g
Carbohydrates: 20.4g
Fibre: 7g
Protein: 20g
Salt: 0.5g
Your wellbeing is paramount. Our unwavering commitment to safety means that we adhere strictly to allergen avoidance in our processes. While our production facility handles various ingredients, your almond experience remains our exclusive focus. Rest assured, our dedication to quality remains uncompromised.