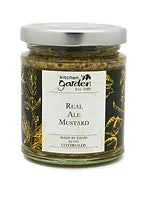 Made by Kitchen Garden Foods.
Kitchen Garden Foods was started by Barbara Moinet in 1989.
Kitchen Garden Foods only supply small independent shops and never supermarkets.
Today Kitchen Garden Foods is run by James Moinet and James Horwood.
Kitchen Garden Foods use family recipes, and small batch production, the highest quality ingredients.
Kitchen Garden Foods have an exemplary record for food hygiene and customer service.
Introducing Kitchen Garden Foods 185g Real Ale Mustard - A Flavorful Fusion of Wholegrain Mustard Infused with Local Old Spot Real Ale!
Kitchen Garden Foods Real Ale Mustard is a harmonious blend of wholegrain mustard and our beloved local Old Spot Real Ale. Unlock its rich flavors by stirring it into crushed new potatoes, or use it to enhance the taste of your salad dressings and gravies.
Ingredients and Allergens:
White Wine Vinegar
REAL ALE (BARLEY) (39%)
CRACKED MUSTARD SEED (32%)
Honey
Sea Salt
For allergen information, please review the ingredients list, where allergenic components are clearly marked in CAPITALS.
Allergy Alert: Please be aware that our products are prepared in a kitchen where various allergens, including nuts, are handled.
Elevate your culinary creations with the exceptional flavor of our Real Ale Mustard. Order yours today and experience the taste of local craftsmanship!