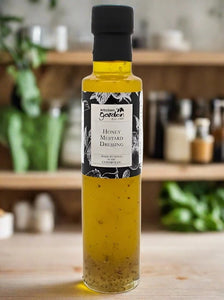 Introducing Kitchen Garden Foods 260ml Honey Mustard Dressing – A Timeless Classic!
Crafted with care, our Honey Mustard Dressing is a delightful blend of our signature Wholegrain Mustard and locally sourced rapeseed oil. This versatile dressing is perfect for enhancing the flavors of your favorite dishes.
Usage Suggestions:
Elevate your green or Caesar salads by drizzling this delectable dressing over them.
Transform your chicken or fish dishes into culinary masterpieces by using it as a marinade.
Ingredients and Allergens:
Rapeseed Oil
White Wine Vinegar
Honey (13%)
Wholegrain Mustard (3%): (Water, White Wine Vinegar, MUSTARD SEED, Honey, Sea Salt)
For allergen information, please note that allergenic ingredients are indicated in CAPITALS.
Allergy Alert: Our products are prepared in a kitchen where other allergens, including nuts, are handled.
Elevate your meals with the exquisite taste of our Honey Mustard Dressing today!