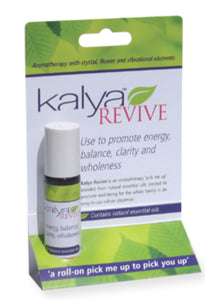 Introducing Kalya Aromatherapy Products "Revive Roll-On" 10ml:
Elevate your senses and invigorate your mind with the Kalya Aromatherapy Products "Revive Roll-On" 10ml. This exquisite roll-on blend is designed to awaken your spirit, boost energy levels, and provide a refreshing burst of vitality throughout the day.
Crafted with passion and expertise, Kalya Aromatherapy Products are known for their commitment to using the purest and highest quality ingredients. The "Revive Roll-On" is no exception. It combines a carefully selected blend of essential oils known for their revitalizing properties, creating a synergistic blend that promotes a sense of rejuvenation and well-being.
The convenient roll-on design allows for easy and mess-free application. Simply glide the roll-on across your pulse points, such as your wrists, temples, and neck, and let the aromatic essence of the Revive blend envelop your senses. The travel-friendly 10ml size makes it a perfect companion for on-the-go use, whether you're at work, traveling, or enjoying your daily adventures.
The Revive blend features an invigorating combination of uplifting citrus notes, including zesty lemon, tangy grapefruit, and vibrant orange. These citrus oils are known for their ability to stimulate and energize the mind, promoting mental clarity and focus. Alongside the citrus burst, a hint of refreshing peppermint adds a cool and revitalizing touch, further enhancing the rejuvenating experience.
Kalya Aromatherapy Products are committed to your well-being and the environment. The "Revive Roll-On" is crafted using 100% pure, natural essential oils and is free from synthetic fragrances, artificial colors, and harsh chemicals. Each bottle is meticulously handmade in small batches to ensure the highest quality and potency.
Embrace the power of aromatherapy and let the Kalya Aromatherapy Products "Revive Roll-On" uplift your senses and awaken your spirit. Experience the revitalizing blend of citrus and peppermint that will keep you feeling refreshed and invigorated throughout the day. Enhance your focus, boost your energy, and embrace the joy of a renewed vitality.
Order your Kalya Aromatherapy Products "Revive Roll-On" 10ml today and discover the transformative benefits of aromatherapy. Treat yourself or surprise a loved one with a gift that brings a sense of revitalization and well-being into their daily life. Elevate your self-care routine with this exquisite roll-on blend and experience the beauty of natural aromas.
Handmade by Kalya Aromatherapy Products.
Kalya Aromatherapy Products was founded by Tanya De Leersnyder.
Kalya Aromatherapy Products is based in Ruscombe, Stroud.
Kalya is Sanskrit for "Healthy, well and able"which perfectly sums up the ethos of Kalya Aromatherapy Products.
Kalya Aromatherapy Products was founded in 2008, after Tanya has run a successful therapeutic, aromatherapy massage pratice for 12 years.
Kalya Aromatherapy Products have created a range to help families and individuls address common condtions.
The ethos behind Kalya Aromatherapy Products is purity of ingredients, a passion for gentle, natural healing and beautiful smelling and looking products.
How to use: Apply to as many or as few points shown on the guide on the next page depending on your mood.
Ingredients: prunus dulcis (sweet almond), grapeseed (vitus vinifera), triticum aestivum (wheatgerm), citrus aurantium linnaeus (bergamot), canarium luzonicum gray (elemi), citrus reticulata (mandarin), pogostemon cablin (patchouli), citrol,**geraniol,** limonene,** linalool**

*organic certified ingredient

**natural essential oil contents

Keep away from children and eyes. Store in a cool, dark place. Discontinue if any adverse effects.Do not take internally. If pregnant, always seek medical advice. Not tested on animals.