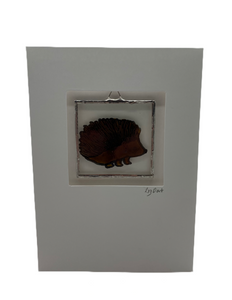 Handmade by Liz Dart stained glass. 
Liz Dart hand makes her stained glass in her studio in Inchbrook near Stroud in the Cotswold's. Liz Dart started as a glass painter's apprentice 25 years ago and has been hooked since.
Introducing the Liz Dart Stained Glass Hedgehog Greetings Card, a charming and enchanting work of art that celebrates the delightful beauty of a hedgehog in stained glass. Created by the talented stained glass artist Liz Dart, this unique card combines the intricate artistry of stained glass with the heartfelt sentiment of a greeting card.
The Stained Glass Hedgehog Greetings Card features a meticulously crafted stained glass design of an adorable hedgehog. Liz Dart's artistic skill brings the hedgehog's spiky quills, curious expression, and endearing charm to life, evoking a sense of warmth and fascination. The intricate details and exquisite craftsmanship make this card a true masterpiece.
Perfect for sending warm wishes, expressing affection, or simply bringing a touch of nature's beauty to someone's day, this greetings card offers a unique and heartfelt way to connect with loved ones. Whether it's for a birthday, a thank you note, or a simple gesture of thoughtfulness, the Stained Glass Hedgehog Greetings Card conveys sentiments in a truly captivating manner.
Crafted from high-quality materials, the card ensures durability and a luxurious feel. The inside is left blank, providing ample space to write a personal message that complements the beauty of the stained glass artwork. Each card comes with a matching envelope, making it ready to give as a cherished keepsake or send to someone who appreciates the splendor of the hedgehog.
Whether displayed as a miniature stained glass masterpiece or treasured as a heartfelt card, the Liz Dart Stained Glass Hedgehog Greetings Card is a unique and memorable way to convey your emotions. Celebrate the beauty of nature and the artistry of stained glass with this exquisite card that captures the endearing charm of a hedgehog.
Note: The card measures 115mm x 150mm and is carefully packaged to ensure it arrives in perfect condition. Please be aware that colors may vary slightly due to monitor settings.
Spread joy, affection, and the enchantment of stained glass with the Liz Dart Stained Glass Hedgehog Greetings Card. It's a thoughtful and visually captivating gift that will be cherished by recipients, serving as a lasting reminder of your heartfelt sentiments.
A6 size trifold aperture card with detachable hand painted and fired glass hanging. Blank inside. Card size 115mm x 150mm, glass hanging approx 50mm x 50mm