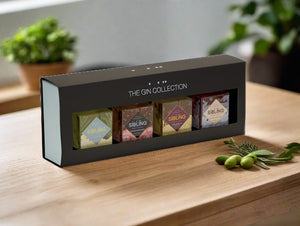 Sibling distillery was started in 2014 in by siblings Felix, Cicley, Clarice, and Felix. 
Sibling distillery is based near Cheltenham. 
Sibling distilleries founder parents started Battledown brewery. 
Siblings four seasons gift set contains each of our limited edition seasonals in 5CL bottles. This includes our Spring edition, Lemon and Rosemary, Summer edition Strawberry and Black Pepper, Autumn edition Apple, Blackberry and Cardamom and the Winter Edition Cranberry and Clementine. The perfect way to try all four at any time of the year and presented beautifully to make a great present.
Delivery will require a signature from an over 18 – we are unable to leave a package without a signature.