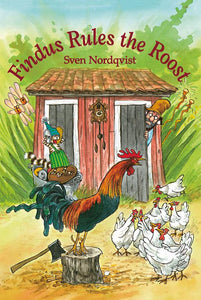 Published by Hawthorn press. 


Written by Sven Nordquist. 
Old man Pettson has ten hens in his hen house. Findus the cat often teases them and plays chase with them around the yard. The chickens are Findus' best friends, second only to Pettson. But one day, Pettson brings home a rooster. The rooster is loud, and does not want Findus to play with the hens. In fact the rooster chases him away! Findus is unhappy and his ears are aching, but what can he do? Find out what happens in this, the tenth Findus and Pettson book published by Hawthorn Press.
Introducing Sven Nordquist's "Findus Rules The Roost" Children's Book!
Get ready for another delightful adventure with Sven Nordquist's "Findus Rules The Roost" children's book. Join the beloved characters from the Findus series as they embark on a hilarious and heartwarming journey that will have young readers giggling and cheering along.
In "Findus Rules The Roost," the mischievous and clever Findus takes center stage as he discovers his newfound independence and decides to build his own treehouse. With Pettersson's guidance and plenty of laughs along the way, this captivating tale explores the themes of creativity, friendship, and the joys of having a special place to call your own.
Through Sven Nordquist's enchanting storytelling and captivating illustrations, children are transported to the charming world of Findus and Pettersson. Every page comes alive with vibrant colors and expressive characters, making the reading experience truly immersive and engaging.
Designed for children aged 3 to 8, "Findus Rules The Roost" sparks imagination and encourages young minds to dream big. This heartwarming story teaches valuable lessons about problem-solving, teamwork, and the importance of finding one's own unique voice.
With its sturdy hardcover and durable pages, "Findus Rules The Roost" is built to withstand countless readings, making it a beloved addition to any child's bookshelf. Whether it's a cozy bedtime story or a shared reading experience with friends and family, this book guarantees endless laughter and cherished memories.
Invite Findus and Pettersson into your home today and experience the joy of "Findus Rules The Roost." Order your copy now and let the laughter and imagination soar as you dive into this delightful tale of friendship, independence, and the power of believing in yourself.