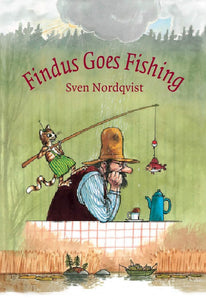 Published  by Hawthorn press. 
Written by Sven Nordquist. 
'I'm in a bad mood and I want to be left alone,' says Pettson. Findus the cat stares at him. He's never seen the old farmer so grumpy. I must cheer him up, he thinks. Somehow. 'Can't we go fishing?' he says. 'Then you'll feel better.' But Pettson doesn't want to go fishing. It's cold and wet and he must dig over the potato patch and chop wood.
But Findus knows how to make Pettson smile. Maybe he can get him to play instead of toiling in the soil. After all, Findus is a very unusual cat…
Introducing Sven Nordquist's "Findus Goes Fishing" Children's Book!
Embark on an exciting aquatic adventure with the lovable characters from the beloved Findus series in Sven Nordquist's "Findus Goes Fishing" children's book. Designed to captivate young minds, this enchanting tale takes readers on a thrilling journey filled with friendship, discovery, and the wonders of the deep sea.
In "Findus Goes Fishing," join the mischievous and curious Findus, the adventurous and wise Pettersson, and their trusty boat as they set sail to explore the mysteries beneath the ocean's surface. With vibrant illustrations that come to life on every page, children will be enthralled by the vivid depiction of underwater worlds and the fascinating creatures that inhabit them.
Written with Sven Nordquist's signature warmth and humor, "Findus Goes Fishing" captures the essence of childhood curiosity, imagination, and the joy of discovery. Each turn of the page reveals a new encounter with quirky marine characters, creating an engaging and educational experience for young readers.
Perfectly tailored for children aged 3 to 8, this delightful book fosters a love for reading and learning while encouraging important values such as friendship, perseverance, and environmental awareness. As Findus and Pettersson navigate the challenges of the deep, they also teach valuable lessons about respecting nature and the importance of sustainable fishing practices.
With its durable hardcover, "Findus Goes Fishing" is designed to withstand countless readings and will be treasured for years to come. Whether it's a bedtime story, a classroom adventure, or a gift for a special occasion, this book is sure to captivate and inspire young imaginations.
So, set sail with Findus and Pettersson today! Dive into the captivating world of "Findus Goes Fishing" and let your child's imagination swim alongside these endearing characters. Order your copy now and make every storytime an unforgettable underwater voyage!