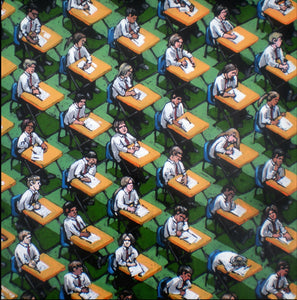 By James Milroy
James Milroy is based in Stroud, Gloucestershire.
James Milroy is an establist artist who has been painting for over four decades.
James Milroy studied Fine Art at Brighton and later completed an MA in Fine Art & Media at Cheltenham.
James Milroy was known for painting complex crowd scenes full of people in contemporary situations.
James Milroy has been exploring more abstract themes. Inspired by the history of pattern (particularly celtic knotwork, Islamic geometry, Op Art and tartan) his work is now unapologetically revelling in the challenges and delights of surface decoration.