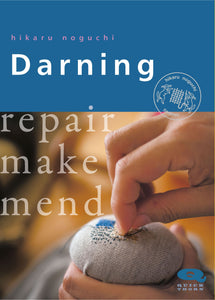 Published by Hawthorn press. 
We all want to do our part to help reduce waste and save the planet. Learning to darn to will help you keep clothes alive longer and save them from landfill. 
Fully illustrated with colour photography throughout
Detailed step-by-step images
Easy to follow techniques (even for beginners)
Plenty of inspiration for adventerous menders.
This book covers twelve darning techniques with detailed set by set instructions. These techniques are seed stitch, square darning, reversible darns, seed and square darn, triangular darns, English darning, Accordion darning, Applique, reverse applique, chain darning, honeycomb darning, and the decorative tambourine.