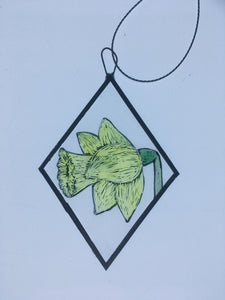 Handmade by Liz Dart Stained Glass. 
Liz Dart Stained Glass hand makes her stained glass in her studio in Inchbrook near Stroud in the Cotswold's. Liz Dart started as a glass painter's apprentice 25 years ago and has been hooked since. 
Liz Dart Stained Glass was one of the original 25 makers to start selling in Made in Stroud in December 2000 when we opened. 
Hand cut, painted and fired hanging - ideal for flower lovers and gardeners!
Traditional fired glass paint and enamel on 2mm glass with copper foiled edging and silver cord hanging loop.