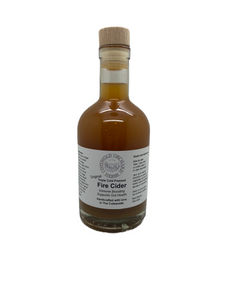 Introducing the Original Triple Cold Pressed Fire Cider – Your Ultimate Elixir for Wellness and Vitality in a 350ml Bottle!
Experience the essence of nature's finest ingredients with our Original Triple Cold Pressed Fire Cider. Crafted with precision and care, this elixir encapsulates the goodness of 19 meticulously selected elements, harmonizing to offer you a rejuvenating and flavorful experience.
Key Ingredients:
Apple Cider Vinegar: The heart of the blend, brimming with probiotics and enzymes for optimal health.
Garlic & Ginger: A dynamic duo, lending their immune-boosting and anti-inflammatory prowess.
Turmeric & Red Onion: Anti-inflammatory gems that infuse the cider with depth and vibrancy.
Citrus Burst: A symphony of Orange and Lemon, delivering a burst of Vitamin C for enhanced vitality.
Chilli & Spice: A controlled kick of heat from chilli, balanced by the allure of star anise and allspice.
Herbal Harmony: Sage, rosemary, and thyme combine for an aromatic journey of relaxation and rejuvenation.
Exquisite Infusions: Coriander seeds, juniper berries, and mixed peppercorns meld for a delightful complexity.
Cinnamon Stick: A dash of warmth and sweetness that brings a comforting dimension.
Liquorice Root & Bay Leaf: The gentle sweetness of liquorice root and the subtle grace of bay leaf.
Benefits:
Holistic Wellness: Packed with a potent blend of nature's gifts, this elixir supports overall well-being.
Immune Fortification: Vitamin C-rich ingredients, along with immune-enhancing components, offer year-round protection.
Gut Harmony: Aided by probiotics, this blend fosters a balanced gut environment, essential for digestive health.
Anti-Inflammatory: Turmeric, ginger, and garlic form a trifecta that reduces inflammation and nurtures vitality.
Energizing Boost: A natural energy-enhancer that invigorates body and mind for a more productive day.
Usage: Kickstart your morning routine with a revitalizing shot of the Original Triple Cold Pressed Fire Cider. Elevate your culinary creations by adding a dash to your recipes, or mix it with water for a refreshing twist.
Elevate your daily ritual with the Original Triple Cold Pressed Fire Cider – where well-being meets a harmonious blend of flavors. Meticulously crafted and thoughtfully concocted, this 350ml bottle is your passport to a revitalized and invigorated life. Order yours today and embrace the essence of nature's bounty!