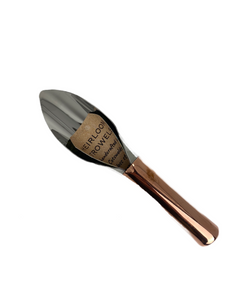 Handmade luxury trowel made in Stroud.
Handmade by Target Aviation in the Cotswolds by George from copper and stainless steel. This is a firm favourite with gardeners at all levels and a perfect gift. 

Uncle Peter's Trowel was recommend by Kate Humble of contryfile in her book "A year of living simply: The joys of a less complicate life" 
Now trading as Heirloom Trowels and handmade by Roger Targett in his shed. 

If you are gifting this wonderful trowel we can hand write a note on a made in Stroud gift tag at not extra cost.

Introducing Uncle Peter's 8-inch Handmade Pocket Trowel – The Perfect Companion for Gardening On the Go!
Uncle Peter's 8-inch Handmade Pocket Trowel is a true masterpiece, meticulously crafted to meet the needs of gardeners seeking a compact and versatile tool. This exceptional trowel features a perfect balance of functionality, durability, and artisanal craftsmanship.
Handmade with precision and care, this pocket-sized trowel is a testament to the artistry of gardening tools. The stainless steel blade effortlessly cuts through soil, making it ideal for planting, transplanting, and digging. Its exceptional strength and sharpness ensure smooth and efficient gardening tasks, while the copper handle adds a touch of elegance and charm.
The copper handle of Uncle Peter's Pocket Trowel is meticulously hand-shaped and polished to perfection, showcasing the craftsmanship of the artisans behind its creation. Each handle is a unique work of art, adding a sense of sophistication and beauty to your gardening routine.
Crafted with top-quality materials, this trowel is built to last a lifetime. The combination of the copper handle and stainless steel blade ensures durability and longevity, withstanding the test of time and continuous use. Uncle Peter's guarantees the quality of this trowel with a lifetime guarantee, giving you peace of mind and confidence in your gardening endeavors.
The compact size of this trowel makes it the perfect tool for gardening on the go. Whether you're tending to your home garden, embarking on outdoor adventures, or simply need a reliable tool for small gardening tasks, Uncle Peter's Pocket Trowel is designed to accompany you wherever your green thumb takes you.
Invest in the unmatched craftsmanship and functionality of Uncle Peter's 8-inch Handmade Pocket Trowel. Experience the joy of gardening with a tool that combines the finest materials, artisanal beauty, and a lifetime guarantee. Order yours today and discover the true pleasure of tending to your plants with a tool that is as exceptional as your gardening skills.