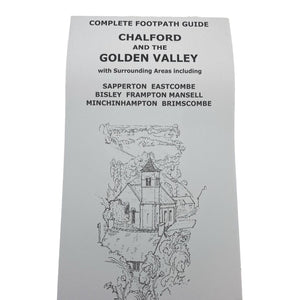 Designed by Barry Hill.
Introducing the Complete Footpath Guide to Chalford and the Golden Valley, a captivating companion for adventurers and nature enthusiasts eager to explore the breathtaking beauty of this enchanting region. Uncover the wonders of Chalford and immerse yourself in the serenity of the Golden Valley with this comprehensive guide.
The Complete Footpath Guide to Chalford and the Golden Valley is thoughtfully curated, offering a diverse selection of meticulously documented trails, footpaths, and walking routes that showcase the area's natural splendor. From tranquil riverside walks to rugged hillside treks, this guide reveals the true essence of Chalford's picturesque landscapes.
Suitable for both novice hikers and experienced explorers, this guide provides detailed maps, step-by-step directions, and invaluable information about each route. Whether you seek gentle strolls or more challenging hikes, you'll find the perfect path to embark on unforgettable adventures through this guide's carefully curated collection.
Delve into the rich history and folklore of Chalford as you traverse the footpaths. Unearth ancient landmarks, hidden gems, and captivating viewpoints that offer panoramic vistas and a sense of awe-inspiring discovery. The guide also features intriguing anecdotes and historical insights, allowing you to deepen your connection with Chalford and the Golden Valley.
Crafted with user convenience in mind, the Complete Footpath Guide to Chalford and the Golden Valley boasts a compact size, making it easy to carry during your explorations. Its durable construction ensures it can withstand outdoor conditions, while its clear layout and intuitive organization make it a breeze to navigate.
Whether you're a local resident or a visitor enthralled by the allure of Chalford, this guide is an indispensable companion. It unlocks the beauty of nature, promotes outdoor activities, and offers an immersive experience that connects you with the wonders of Chalford's footpaths and the Golden Valley.
Embark on a journey of discovery and create lasting memories with the Complete Footpath Guide to Chalford and the Golden Valley. It's an essential tool for anyone seeking to explore the awe-inspiring landscapes, rich heritage, and hidden treasures of this captivating region.