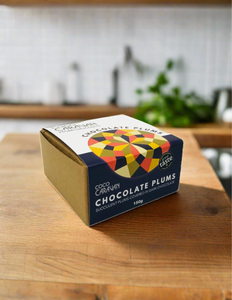 Introducing Coco Caravan Vegan Chocolate Plums, a tantalizing treat that combines the lusciousness of plums with the indulgence of premium vegan chocolate. Crafted with passion and expertise, these delectable delights are perfect for those seeking a delicious and guilt-free snacking experience.

Coco Caravan Vegan Chocolate Plums start with hand-picked plums that are carefully dried to achieve the perfect texture and sweetness. These succulent plums are then lovingly coated in a rich layer of high-quality vegan chocolate, creating a harmonious blend of flavors that will leave your taste buds craving for more.
Indulge in the velvety smoothness of the vegan chocolate as it envelops each plum, adding a luxurious touch to every bite. The natural sweetness of the plums complements the deep, rich cocoa flavors of the chocolate, resulting in a delightful balance of tastes that is both satisfying and irresistible.
Made with premium vegan ingredients, Coco Caravan Vegan Chocolate Plums are a guilt-free treat that can be enjoyed by everyone, including those following a vegan or plant-based lifestyle. The 150g package offers the perfect portion size to enjoy as a snack, share with friends, or even give as a thoughtful gift to a fellow chocolate lover.
Free from artificial additives and preservatives, Coco Caravan Vegan Chocolate Plums are a healthier alternative to traditional chocolate-covered treats. They are crafted with care, ensuring that each bite delivers a burst of natural flavors and a satisfyingly sweet experience.
Discover the indulgence of Coco Caravan Vegan Chocolate Plums, where plums meet the richness of vegan chocolate. Treat yourself to these irresistible delights and experience the perfect balance of fruity sweetness and velvety chocolate goodness. Snack guilt-free and enjoy the decadence of Coco Caravan Vegan Chocolate Plums, a truly delightful treat for any occasion.
Handmade by Coco Caravan. 
This product is vegan friendly. Allergens No major allergens.
Coco Caravan was stared in 2013 by Jacque Cop.
Jacque worked for 10 years previously as an ecologist.
Patricia Brien is the creative director is Coco Caravan. Patricia designed the Mangala for the logo and is the aesthetic drive of the brand. Patricia's background is in research, media, writing and was an educator in Australian and British universities for many years.
Coco Caravan are passionate about making chocolate that has a focus around ethical production and sustainability.
Coco Caravan specialise in raw, vegan and organic chocolate that is not only good for you but is delicious and award winning.
Coco Caravan use no additives or preservatives in their chocolate.
Coco Caravan only use Fair trade or Direct trade Cacao to make their chocolate.
Coco Caravan never use plastic in their packaging.
Coco Caravan always handmake their chocolate in small batches.
Coco Caravan are based in Stroud, Gloucestershire.