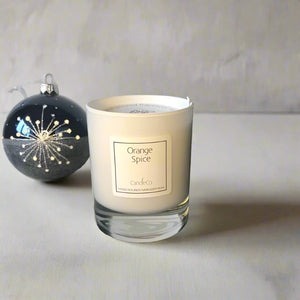 Handmade by CandleCo.
CandleCo was founded by Mandy Holder Charles. 
CandleCo make rapeseed wax scented candles. 
CandleCo was started in 2007. 
CandleCo is based in Stroud, Gloucestershire. 

Hand poured rapeseed wax infused with scented oil. 
Introducing the CandleCo Orange Spice scented rapeseed wax candle - a delightful infusion of warmth and aromatic bliss. Transform your space into a haven of cozy comfort with this inviting and fragrant candle.
Crafted with care and precision, this candle offers a captivating blend of zesty orange and comforting spice, creating an ambiance that is both invigorating and soothing. The natural rapeseed wax burns cleanly and evenly, ensuring a longer, more aromatic experience.
The harmonious fusion of vibrant citrus and the rich, comforting notes of spice creates an inviting atmosphere perfect for any setting. Whether it's to unwind after a long day, accompany a relaxing bath, or infuse your home with a welcoming scent for guests, the CandleCo Orange Spice candle delivers an exceptional olfactory experience.
Packaged in an elegant and eco-friendly glass jar, this candle not only delights the senses but also adds a touch of sophistication to your decor. Its extended burn time ensures that the delightful fragrance lingers, allowing you to savor the comforting aroma for hours on end.
Indulge in the captivating harmony of citrus and spice while elevating the ambiance of your space. The CandleCo Orange Spice scented rapeseed wax candle is the perfect choice for those seeking a fragrant, high-quality, and eco-conscious addition to their home.
Immerse yourself in the welcoming embrace of this exquisite scented candle, allowing the uplifting fragrance to infuse your surroundings and create moments of aromatic bliss. Experience the harmonious blend of orange and spice, bringing warmth and comfort to your home.