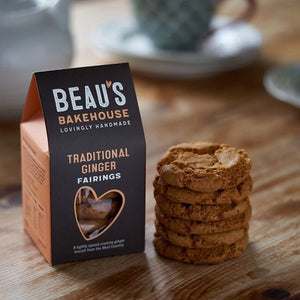 Handmade by Beau's Bakehouse. 
Baking holds a cherished place in our family's history, and it's a tradition that spans generations. My grandmother, Beau, operated her own 'Cake Kitchen' in New Zealand during the 1920s, and her love for baking has been passed down through the years.
Today, at Beau's Bakehouse in Frampton on Severn, we proudly continue my grandmother's legacy. We faithfully use the exceptional recipes she crafted, recipes that I personally collected and hold dear.
At Beau's Bakehouse, we understand the significance of freshness in baking. That's why we meticulously create small batches every day, utilizing the finest and, whenever possible, locally sourced ingredients.
Our bakes are crafted with love, ensuring they are never far from the oven, maintaining the tradition of quality that has been our family's hallmark for decades.
Indulge in the rich flavor of all-butter shortbread crafted according to Beau's cherished family recipe.
Experience the delightful crunch of a lightly spiced ginger biscuit hailing from the charming West Country.
Rest assured, this treat will be delivered with a minimum of 5 months of shelf life remaining. Here's the carefully curated list of ingredients that make this biscuit a flavorful delight:
Fortified wheat flour (wheat flour, calcium carbonate, iron, niacin, thiamin)
Golden syrup
Salted butter
Caster sugar
Bicarbonate of soda
Baking powder (sodium acid pyrophosphate, sodium hydrogen carbonate, rice flour)
Ground ginger
Mixed spice (cassia cinnamon, coriander, ginger, pimento, cloves, nutmeg)
Cinnamon
For those with allergen concerns, the ingredients containing allergens are clearly highlighted for easy reference. Enjoy the perfect balance of spice and crunch in this delightful ginger biscuit inspired by the West Country tradition.