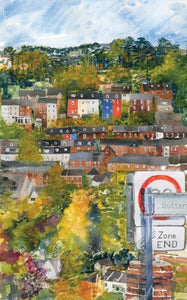 By Alison Vickery artist. 
Alison Vickery artist was a successful graphic designer and illustrator in the 80's. 
Alison Vickery artist followed her passion and started painting and drawing in 1994. 
Alison Vickery artist uses a wide range of media to create vivid art works. 
Alison Vickey artist is based in Stroud Gloucestershire.
Introducing the Alison Vickey Artist "Stroud across the Valley" Greeting Card, a stunning and evocative piece of art that captures the beauty and charm of the picturesque Stroud Valley. Created by the talented artist Alison Vickey, this unique greeting card combines artistic vision with a heartfelt message.
The "Stroud across the Valley" Greeting Card showcases a breathtaking panoramic view of the Stroud Valley, meticulously crafted with intricate details and vibrant colors. Alison Vickey's artistic skill brings the rolling hills, quaint cottages, and meandering streams to life, immersing you in the tranquility and natural splendor of the region.
Printed on high-quality cardstock, this greeting card exudes a sense of elegance and craftsmanship. The inside is left blank, allowing you to write a personalized message for any occasion. Whether it's a birthday, anniversary, or a simple note of appreciation, the "Stroud across the Valley" Greeting Card conveys sentiments with beauty and artistry.
Each card is a true work of art, reflecting the artist's passion for capturing the essence of Stroud and its surrounding landscape. It serves as a visual reminder of the beauty that can be found in everyday moments and a perfect keepsake for art enthusiasts and admirers of the Stroud Valley.
Note: The card measures [dimensions] and comes with a matching envelope, making it ready to send or give as a thoughtful gift. Please be aware that colors may vary slightly due to monitor settings.
Embrace the beauty of the Stroud Valley with the Alison Vickey Artist "Stroud across the Valley" Greeting Card. It's a heartfelt way to connect with loved ones, celebrate special occasions, or simply share the enchantment of this remarkable region through the eyes of a talented artist.
This stunning view across Stroud made in a mixed media collage. Printed as a greetings card, blank inside.