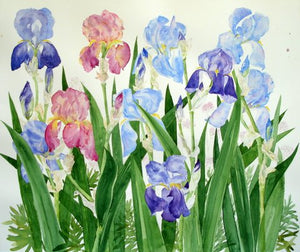 Introducing Alison Vickery Artist's "Irises" Greetings Card: A Captivating Expression of Nature's Elegance.
Indulge in the beauty of Alison Vickery's "Irises" Greetings Card. With her artistic finesse, Alison captures the graceful essence of irises in stunning detail. This exquisite card allows you to convey heartfelt sentiments for any occasion. Crafted with care and printed on high-quality materials, it serves as a remarkable keepsake. Share the enchantment of irises with the "Irises" Greetings Card by Alison Vickery. Order yours today and celebrate the elegance of nature in every heartfelt message you send.
By Alison Vickery artist. 
Alison Vickery artist was a successful graphic designer and illustrator in the 80's. 
Alison Vickery artist followed her passion and started painting and drawing in 1994. 
Alison Vickery artist uses a wide range of media to create vivid art works. 
Alison Vickey artist is based in Stroud Gloucestershire.
Beautiful painting of Irises in watercolour. Printed as a greetings card, blank inside.