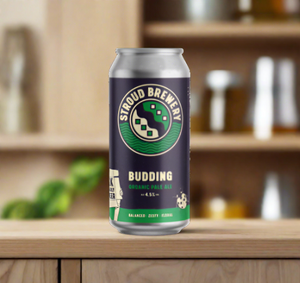 Founded in 2006, Stroud Brewery began as a passion project for our adventurous and environmentally conscious founder, Greg Pilley. A true beer enthusiast, Greg's mission was straightforward: to craft exceptional-tasting beers for the local community while embodying the positive change he envisioned in the business world.
Fast forward to today, and Stroud Brewery stands as a flourishing enterprise. Our tap room, now a beloved local landmark in Stroud, has evolved into a vibrant social hub. We take pride in producing not only great-tasting but also ethical and organic beers. At Stroud Brewery, we don't just brew beverages; we create inviting and enjoyable spaces for our community to come together.
Introducing Stroud Brewery's Budding Ale - a refreshing and crisp beer that is perfect for any occasion. Handcrafted in the heart of Stroud, this ale is a true taste of the local area.
Brewed using only the finest organic hops and malts, Stroud Brewery's Budding Ale has a smooth and balanced flavour that is both satisfying and easy to drink. The hops used to make this ale give it a distinct citrus flavour, with hints of grapefruit and lemon.
Stroud Brewery takes pride in their sustainable brewing process, using only the best organic ingredients and renewable energy. Budding Ale is also vegan and gluten-free, making it a great choice for those with dietary restrictions.
Whether you are a beer enthusiast or just looking for a refreshing drink, Stroud Brewery's Budding Ale is the perfect choice. Serve it chilled or at room temperature for the perfect taste experience.
Overall, Stroud Brewery's Budding Ale is a delicious and sustainable beer that is perfect for any occasion. Get yours today and taste the difference of a true artisanal brew.
Stroud Brewery are one of the leading organic breweries in the UK.