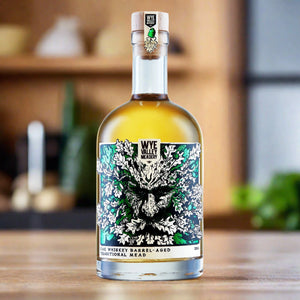 Handmade by Wye Valley Meadery. Now trading as Hive Mind. 
Carefully crafted with a fusion of ancient brewing techniques and the influence of oak barrels previously used for aging fine whisky, this mead is a true masterpiece of innovation and tradition.
Using only the finest hand-selected honey from the bountiful Wye Valley region, our expert brewers have created a mead that tantalizes the senses. The aging process in whisky barrels imparts a distinct character to the mead, enhancing its richness and complexity.
With its deep amber color and luxurious texture, every sip of our Oak Aged Whisky Barrel Tradition Mead takes you on a captivating journey. As the aromas of oak and honey intertwine, you are enveloped in a symphony of flavors. The smooth and velvety palate showcases notes of caramel, vanilla, and a subtle hint of whisky, creating a harmonious blend that lingers on the tongue.
This 50cl bottle of Wye Valley Meadery Oak Aged Whisky Barrel Tradition Mead is perfect for those seeking a truly unique and exceptional drinking experience. The elevated 20% ABV ensures a bold and robust profile that is best savored on its own or as a delightful accompaniment to a decadent dessert.
Whether you're a connoisseur of mead, a whisky lover looking to explore new horizons, or a discerning individual searching for an extraordinary gift, Wye Valley Meadery Oak Aged Whisky Barrel Tradition Mead is sure to captivate your senses and leave a lasting impression.
Experience the fusion of tradition and innovation, as well as the unparalleled craftsmanship that defines Wye Valley Meadery. Elevate your drinking experience and indulge in the extraordinary complexity of Oak Aged Whisky Barrel Tradition Mead. Unleash your taste buds and savor the essence of time captured in every sip.